Vinyl Siding in Sacramento and the region
Showcase the beauty of your home, while protectingthe exterior and making it much more energy efficient!
Get 10% off your project.
In the Sacramento region, True Build Group is your trusted provider for high-quality vinyl siding. This popular home exterior choice is known for its durability, cost-effectiveness, and a variety of style options that will enhance the look of any home.
Vinyl siding is a type of exterior cladding made from PVC, a type of plastic. It is designed to withstand the elements, resist pests, and provide lasting beauty without the need for regular maintenance. The strength and flexibility of vinyl make it a highly resilient choice, capable of standing up against the diverse weather conditions we see in the Sacramento region.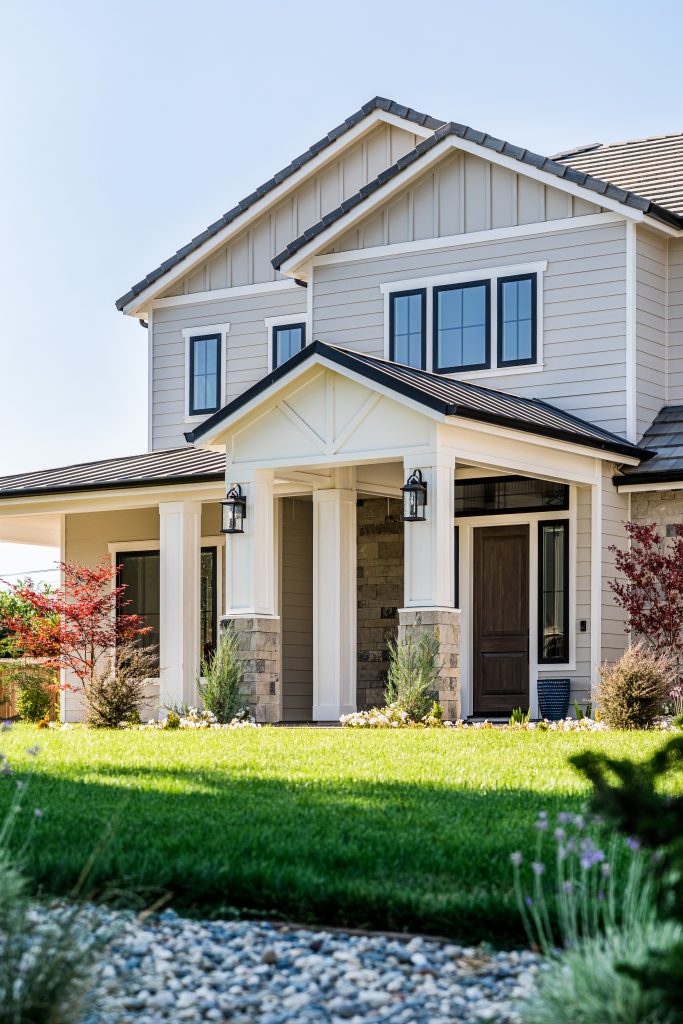 Our team at TBG is dedicated to providing you superior craftsmanship at a reasonable price.

Our quality work will increase the value of your home, enhance curb appeal and ensure complete satisfaction for years to come.
Advantages of Vinyl Siding
There are several reasons why homeowners in the Sacramento area choose vinyl siding. First, it's cost-effective. Not only is the material affordable, but its low maintenance requirements also save money in the long run. Vinyl siding is durable and resilient, resisting damage from heat, cold, and moisture. Furthermore, vinyl siding doesn't fade or peel, eliminating the need for painting. Lastly, with a variety of colors and styles available, vinyl siding allows for extensive customization to match your home's aesthetics.
Leave us a message or call us directly. We'd be happy to answer your questions and/or provide you an estimate for your project!
Vadim and his crew were nothing short of amazing! They showed up on time, were very professional, and the quality of the work done was outstanding! Highly recommend using him, and would absolutely use him again in the future.
Perfectionist who is dependable and competitively priced. Finished ahead of schedule and does good and honest work. Five star service, I highly recommend them.
These guys did an amazing job on my remodel. Honestly I thought that they would be in and out in a few days, but I soon realized that the detail that went into their work took them longer but it was definitely worth it. I'm impressed and would highly recommend them.
Tru Building Construction did a real great job. Vadim the owner is detail oriented, and is pleasant to work with. I highly recommend this company.
Vadim and his team did a fantastic job with our garage updates! Our garage was previously completely unfinished with plywood walls, open rafters, old water heater and no lights. Vadim's team made our garage space look like a new build-installed drywall, baseboards, sealed garage door, installed heat/air wall unit, installed tankless water heater, closed off rafters with storage space above, installed led lights and painting. He was fantastic to work with throughout the process and communicated every step of the way. I'd highly recommend and will be contacting him for other projects.
We needed to repair several areas of siding in difficult locations on our home. Not a big or interesting job, but important to us. After being ignored or passed over by a few contractors, we reached out to True Build Group. Vadim came by and took his time to assess the situation and explain possible solutions. He provided an estimate as promised. When it came time to do the work, he and his team were communicative, on time, thorough, and neat. As someone who works in the design and construction field, their approach was very much appreciated. I highly recommend TBG and will reach out to them for future projects.
Vadim and the TBS crew did a phenomenal job replacing the exterior siding 3 stories with Hardie board. In addition repaired exterior shingles in a very difficult situation due to close proximity to our neighbors and it was 40' up. Vadim & TBS crew performed perfectly. I highly recommended them, Marc Berman SF
I cant say enough how much we enjoyed having True Build Group add siding to our home. Vadim was very professional and the quality of work was outstanding! I would absolutely use them again and would highly recommend them!
TrueBuild Group replaced the siding and trim on my home. From the bid to the contract to work completion, the team was responsive, respectful and true to their word. The crews work very hard and the quality is outstanding!
Perfectionist who is dependable and competitively priced. Finished ahead of schedule and does good and honest work. Five star service, I highly recommend them.